The new song Billie Jean was released to the United States with Moon walk in 1983. It was when he was 24 years old. He was already on the road to stardom with a Thriller hit, but it was the song's Motown 25: Yesterday, Today, and Forever that made the King of Pop steadfast. ..
Billie Jean and Moon walk fascinated the world
Michael is asked to appear at the record company Motown's 25th anniversary event. The condition is to play a hit song released by Motown in the past.
But since Off the wall, which he announced in 1979, he's long had a chance to overturn the industry's reputation as a half-hearted star who's stuck in the Jackson 5's child star rise.
Pasadena in Los Angeles on March 25th was to be televised nationwide seven weeks after his Civic performed on his auditorium stage.
The show and TV show was a great opportunity to surprise the industry people who called themselves child stars.
So, instead of a hit song from the past that wasn't surprising, I needed a weapon that could break through my shell and claim victory over the world.
One of them is Billie Jean and Moon walk, who wrote and composed their own songs.
Billie Jean is a song about a love affair between a man and a woman set in a dance hall.
The beauty that everyone pays attention to on her dance floor says that it is herself who dances with him around her, and that the father of her own belly child is him.
On the other hand, he is not her lover. He's not the father of a hungry child, understand.
It is a story of two people who seem to have an adult translation.
At first glance, the lyrics spoken only by the man can be taken as if the man was telling the truth, but from the perspective of the woman, it was not filled with lies, and I do not know which one is true. It has an atmosphere that is composed of such a delicate context.
Michael dared to write such a song because he wanted to go on an adult line as much as he could so that he wouldn't be licked by a child star. It can be said that the aim was perfectly correct.
At first, the production side was reluctant to change the appearance conditions for singing "old-fashioned melody" that Diana Ross and Stevie Wonder also drank, but in advance only two people, Don Mischer and the producer, were the general directors. He acted and showed Bille Jean and convinced him.
On the other hand, Moon walk is synonymous with Michael, but it is said that it was originally danced by street dancer Cooley Jackson and was worn for $ 1000 for a three-day lesson.
When Cooley was dancing himself, he called it a backslide, and Michael developed a technique that only retreated in a straight line, and by combining it with rotation, it was named Moon walk because it does not look like walking on the ground, and it is famous. And became Michael's own.
The lesson from Coolie was two years before Billie Jean's announcement, but he was eagerly looking for a first-generation opportunity to show off while refining his skills.
That unique opportunity has arrived.
On the day of the stage, after the performance as Jackson 5 was over, it was announced as a solo. The audience is said to have been rushing to dance and sing.
Michael also made detailed requests to edit the TV footage that will be aired seven weeks later, and at that time the artist's footage was generally a close-up that enlarges the area around the face, but the viewer is part of his dance. Most of the scenes were designed to show his whole body so that he could be imitated from beginning to end, and he told the director Don Mischer not to change from this cut.
Impressions of the surroundings
From the day after the TV broadcast in May, children across the United States imitated Michael's movements and became a social phenomenon, and Thriller's CD sales were climbing again. It was destined for him to become the King of Pop here.
I was fascinated by Billie Jean after Michael's death and watched various videos, but I think that the fresh and fresh performance at the time of this first debut is Pikaichi.
At this time, Michael was only 24 years old, and even after that, the dance performance became more mature, and the scale became a stadium far exceeding the Pasadena Civic Auditorium and the curtain of the super ball, but this embodied the momentum of the "rising dragon". Isn't there anything better than Michael's aura of the time?
It is also the scene of this first debut that Noriyuki Higashiyama, a boy corps who calls himself Michael Jackson otaku, went up to the first place in the trembling performance on the TV program "Only No. 1 knows".
Then Michael
Michael continued to work hard after Billie Jean, but every time he released it, he was expected to surpass his previous work. The pace of Michael's release, which is also a perfectionist, begins to slow down. In addition, the illnesses such as severe burns and vitiligo in commercials finally drive my spirit.
In 2009, he wasn't going home until a month after the tour This is it, which was announced as a major comeback.
After that, This is it was released as a documentary for tour preparation and became a big hit. It is said that the royalties income in 2018 is 10 billion yen in the world.
BTS Dynamite pays homage to Billie Jean
It's almost 12 years since he died.
Did you know that Billie Jean's choreography is homage to BTS's Dynamite MV dance, which was a huge hit all over the world last year?
There is information that Dynamite is "a dance homage to Michael Jackson", but the details were not listed anywhere, so I compared it again.
The gesture of brushing hair from above, the high kick that twists the right foot, and the moonwalk.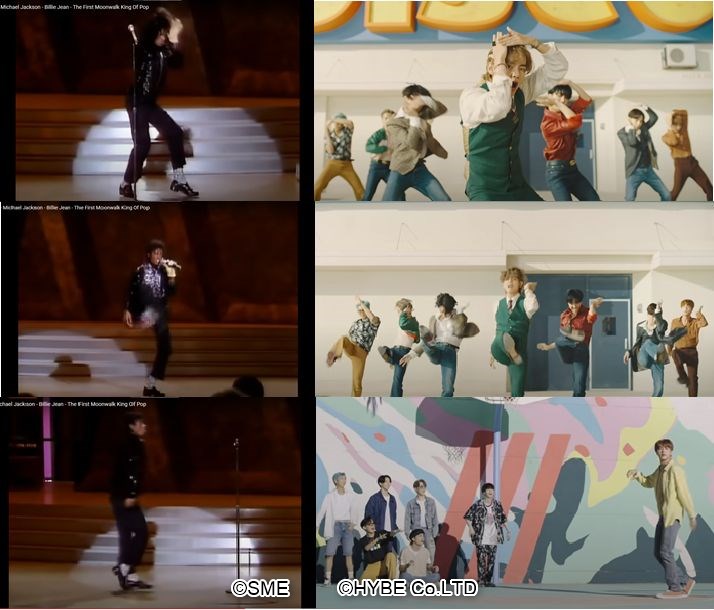 The difference between the two is that Billie Jean makes two hair-raising gestures, while Dynamite makes one in each place.
Billie Jean kicked a total of 3 times, Dynamite kicked a total of 5 times,
Moon walk for Billie Jean twice, Dynamite once (not in Choreography ver., Only in MUJI)
BTS is also a unit that represents the present age, but I thought that Michael had a lot to do with the kick. The BTS kick doesn't have much twist and just feels like it's kicking up, but Michael's kick has a twist and is a "fascinating kick."
The kick alone is so different, so it's deep.
In this way, I hope that the choreographers and choreographers of the world who are fascinated by Michael's choreography will continue to pay homage.
[Reference materials]
NHK BS Premium "Another Stories: The Fork of Fate'Michael Jackson Advent'" 2015.4.22